online tool to build football formations & lineups
What's New: Text to Lineups Images ​
Copy & Paste Lineup Text to Create Formations ​
Sometimes the quickest way to generate football formation images is by copying and pasting text, especially when you have a football lineup as text at hand.
Predicted or historical lineups in blogs, social media, tickers, or fan forums often come as text. Being able to simply paste this information and instantly generate a formation can save you both time and effort.
With the new text to football formation feature, you can convert text into football formations effortlessly. We hope it's an intuitive, efficient, and quick way to create your football team when you have a match sheet, a probable lineup, or a list of players at hand.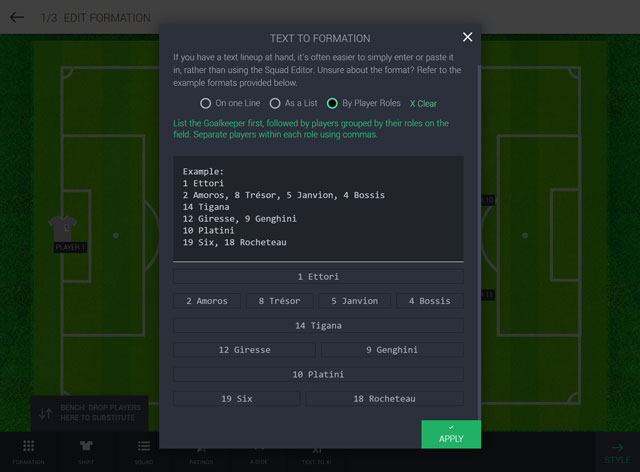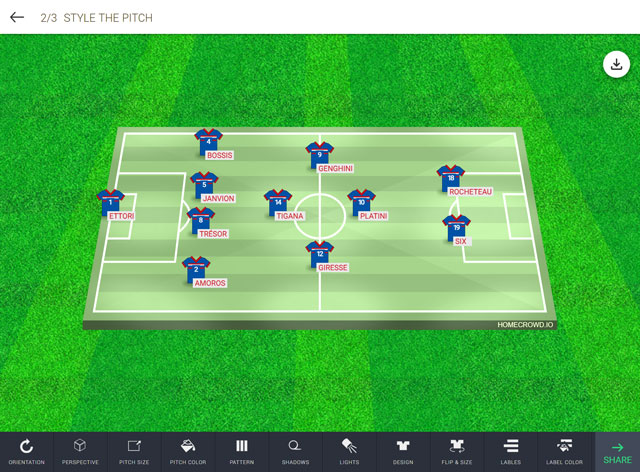 Please note that this feature is only available if you choose to build your football team from scratch, not when using one of the presets (as they're already populated with players). If you don't have a formation in text at hand, we recommend using the team editor to edit your formation.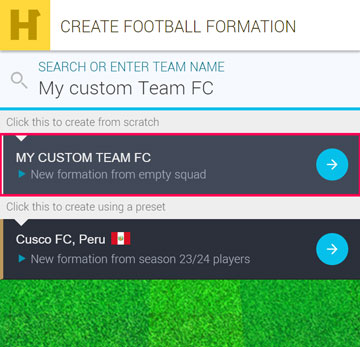 Football Lineup Notation ​
As you know, the notation for football lineups in text revolves around a couple of principles:
Separate players with a delimitter like a comma (",").
Differentiate position lines [GK, DF, MF, FW] with a semicolon (";") or a new line.
Start with the goalkeeper, then move to defenders from right to left (RB to LB), and continue in the same way for midfielders and forwards.
Variations exist, but the converter tool accommodates most common formats.
For a clearer understanding, let's take a look at some sample formations from the iconic World Cup 1982.
Here's a lineup from Italy with Zoff as the goalkeeper on the first line, followed by defenders, midfielders and attackers.
1 Dino Zoff (c)
3 Giuseppe Bergomi, 6 Claudio Gentile, 7 Gaetano Scirea, 5 Fulvio Collovati, 4 Antonio Cabrini
13	Gabriele Oriali, 14	Marco Tardelli
16	Bruno Conti, 20	Paolo Rossi, 19	Francesco Graziani

Usually, starting XIs are more concise, using only the players' last names for brevity
22 Ettori
2 Amoros, 8 Trésor, 5 Janvion, 4 Bossis
14 Tigana
12 Giresse, 9 Genghini
10 Platini
19 Six, 18 Rocheteau

Moreover, it's not uncommon to see lineups without shirt numbers, focusing solely on the players' names:
Schumacher
Kaltz, Stielike, K.Förster, B.Förster
Dremmler, Breitner, Briegel
Rummenigge (c), Fischer, Littbarski

The text to lineup feature has been designed with such variations in mind. Whether your lineup includes full names, last names, with or without shirt numbers, the text to formation tool is flexible enough to recognize and adapt accordingly.
You'll often come across lineups presented in a more condensed format, all on a single line.
In these instances, players within the same positional group are typically separated by commas (","), while different groups or blocks (like defense, midfield, and attack) are distinguished with semicolons (";").
1 Peres; 3 Oscar, 2 Leandro, 4 Luizinho, 6 Júnior; 5 Cerezo, 15 Falcão; 8 Sócrates (c), 10 Zico, 11 Éder; 9 Serginho

Sometimes, you might encounter starting XI that are just a list of players without any clear positional demarcation. In such cases, the formation can't be deduced from the text. When presented with such lineups, the Text to formation feature defaults to a classic 4-4-2 formation to organize the players.
22 Ettori, 2 Amoros, 8 Trésor, 5 Janvion, 4 Bossis, 14 Tigana, 12 Giresse, 9 Genghini, 10 Platini, 19 Six, 18 Rocheteau

If the lineup you provide lacks explicit positional structuring, you can simply specify the formation you have in mind.
When the tool encounters a lineup without clear positional distinctions, it will first look for any mentioned formation within the text.
For example, by specifying 4-1-2-1-2 as shown below, the eleven will align to the formation reminiscent of France's 'carré magique' era. This formation was, in fact, interpreted as today's diamond, as noted by Giresse.
Pour moi, il s'agit plutôt d'un losange. Tigana en pointe basse, Platini en pointe haute. Losange magique ? Difficile de savoir quand a été prononcée pour la première fois l'expression ''carré magique
Alain Giresse
4-1-2-1-2
22 Ettori, 2 Amoros, 8 Trésor, 5 Janvion, 4 Bossis, 14 Tigana, 12 Giresse, 9 Genghini, 10 Platini, 19 Six, 18 Rocheteau

Same applies to formations from match sheets, that are often provided as a simple list of players without any formation cues - the tool defaults to a 4-4-2. However you can indicate the formation within the text to give a clue.
5-3-2
Dino Zoff
Bergomi
Scirea
Collovati
Gentile
Cabrini
Oriali
Tardelli
Conti
Paulo Rossi
Graziani

Then you'll find lineups like the one below, especially in online fan forums. These spaces sometimes use unique, textual approaches to convey the formation visually.
Take, for example, this lineup where dashes are used to emphasize the structure of the formation. That's fine too.
---------------- 1 Peres ------------------
-----------------3 Oscar ------------------
-- 2 Leandro --- 4 Luizinho --- 6 Júnior --
---------- Cerezo ------- 	Falcão --------
---- Sócrates (c) --- Zico --- Éder  ------
---------------- Serginho ----------------- 

Or this format
Baley – Olguin, Passarella, Galvan, Tarantini – Barbas, Gallego, Maradona – Calderon, Diaz, Kempes (78. Hernandez)

or another...
22 Shilton – 12 Mills, 18 Thompson, 4 Butcher, 17 Sansom – 19 Wilkins, 16 Robson, 5 Coppell, 15 Rix – 11 Mariner, 8 Francis (78. Woodcock)

something like this...
Goalkeeper: Waldir Peres
Defenders: Leandro, Oscar, Luizinho, Junior
Midfielders: Toninho Cerezo, Falcão, Zico, Sócrates (c)
Forwards: Serginho Chulapa, Éder

or this...
1 Peres 🟨
2 Leandro 🔄, 3 Oscar , 4 Luizinho, 6 Junior ⚽(75')
5 Cerezo , 15 Falcão 🟨, 10 Zico ⚽(11')🔄, 8 Sócrates (c) 
9 Serginho ⚽(66'), 11 Éder

Lineups as text can be messy, but no matter how your format is, chuck it in. The tool will give it a good go and try to get it right. For the best results:
Always start with the goalkeeper.
Keep the order from right to left for defenders, midfielders, and forwards.
Ensure you separate players and blocks consistently.
At the very least, you'll get a solid starting point which you can easily fine-tune using the other features of the lineup builder. For a deeper dive, check out our how to make a football formation guide to learn more about the other features of the football formation creator tools.
So, the next time you come across a text lineup or think of one, just remember: a simple copy and paste can transform it into a visually captivating football formation image.
Note: This feature is exclusively for those creating teams from scratch. With presets, there's no need to populate your team.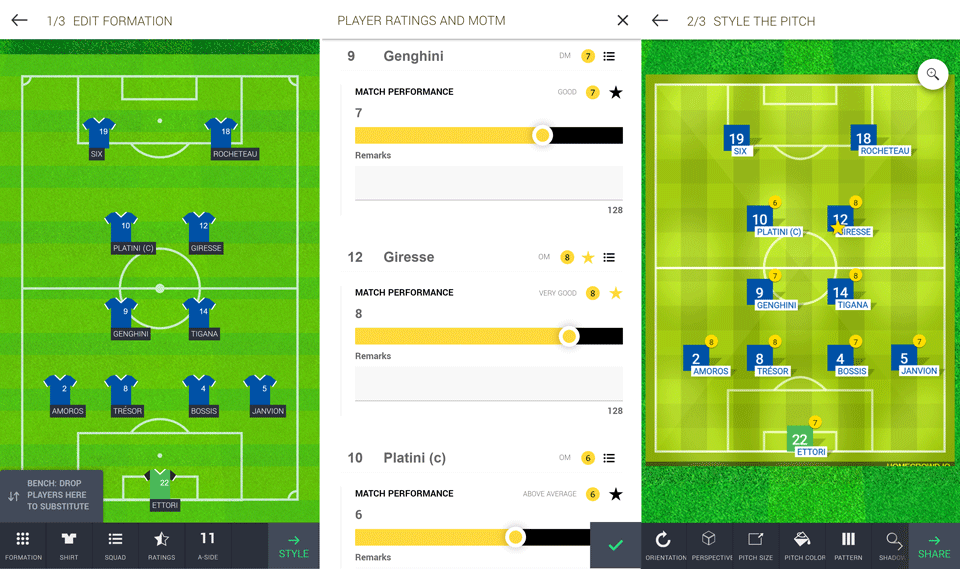 If you're wondering what kind of football formation images you can create, check out the lineup builder 2023 showcase.